Complete refreshment and deep cleaning solution for Shoe Spa
Shoe Spa Service in Abu Dhabi
Shoes play a crucial role in our daily lives, enhancing your overall appearance with a touch of elegance. As you wear shoes regularly, they often experience rapid deterioration. At Curtain Cleaning Company in Abu Dhabi, we provide top-notch shoe repair and cleaning spa services. Give your sneakers, boots, and heels the care they deserve by pampering them at Curtain Cleaning Company today!
Shoe Cleaning
Shoe Repair & Restoration
Shoe Protection & Nourishment
Our Shoe Cleaning Process
Step 1: Removes laces and sole
Our shoe spa cleaning in Abu Dhabi starts with carefully removing the laces and soles from the shoes. We remove the shoelaces and soles to access all its areas and clean them properly.
Step 2: Wash shoes
Using specialized cleaning solutions and techniques, we wash the shoes. But, before washing, we consider the material and type of shoe so that the cleaning process is effective.
Step 3: Detailed inspections
Our cleaning process doesn't end with shoe washing. Later, we conduct a detailed inspection of the shoes, examining their every aspect. We check the upper material, stitching, and other areas that require immediate attention.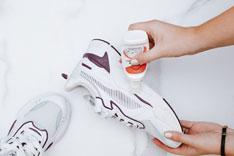 Step 4: Expert Treatment
Based on the inspection, we apply expert treatment to address the problems found during the inspection. These treatments include stain removal, color restoration, or repair of damaged areas.
Step 5: Delivery
After shoe cleaning and restoration, we immediately deliver it to you. But, before delivering the shoes to your doorstep, we pack them properly to prevent any damage during transportation.
Get Affordable Shoe Spa Services in Abu Dhabi
When you're looking for "shoe cleaners service near me or shoe spa near me" online, Curtain Cleaning Company is your preferred choice. Why? It's because we offer professional shoe cleaning in Abu Dhabi, utilizing superior chemicals and processes.
Unlike local shoe cleaners in Abu Dhabi who employ harmful chemicals for shoe cleaning and restoration, we prioritize the use of eco-friendly chemicals that are gentle on your shoe fibers and the environment. Our pro-fabric chemicals guarantee zero damage to your footwear.
Moreover, we insist on using only high-quality materials for shoe cleaning and repair. We never settle for anything mediocre in our process, ensuring that your footwear lasts as long as you desire.
At Curtain Cleaning Company, we welcome all varieties and labels of shoes, ranging from leather and non-leather boots to high heels, sneakers, sandals, loafers, sports cleats, prescription shoes, UGG brands, Birkenstocks, and many others. We understand that you have made an investment in your shoes, envisioning years of use, and we are here to assist you.
We've something more for you!!
Other than shoe spa cleaning in Abu Dhabi, we offer bag restoration service, which includes both repair and cleaning.
We can clean all your handbags, regardless of their brand or value. Whether it's leather, suede, or delicate and luxurious exotic leather, we possess the know-how to handle them with care. We are even adept at tackling stubborn stains such as dye transfer from clothing, ink stains, and various food and beverage spills!
Our initial step involves identifying the specific leather used in the bag and formulating the most suitable cleaning technique accordingly. Cleaning a handbag is not simply a matter of giving it a vigorous scrub; it necessitates the identification of the material and the selection of the safest and most appropriate cleaning product. During the cleaning process, we ensure a thorough deep clean of the bag's exterior, reaching into all folds and creases.
Are you looking for a shoe cleaning or bag restoration service in Abu Dhabi? Come to Curtain Cleaning Company.